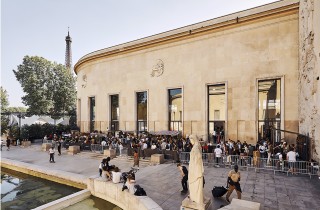 2023 RE !
Re-weave links between generations of professionals
RE-UNITE the links of a sector
Those who produce, those who distribute, those who prescribe, the different links of the hospitality business
RE-INSPIRE Share, transmit, exchange.
RE-INVENT, RE-ENJOY, RE-COVER
A powerful syllable that unites for this 15th edition
WELCOME TO COCKTAILS SPIRITS.
LET'S HAVE FUN AND DO BUSINESS!
TRANSMISSION
Passing knowledge to the next generation 
Our raison d'être and the cement of this exhibition since always: the human.
In 2023, we present you the next generation. A magnificent group of 100 talents who embody the new generation throughout France.
Come and discover "THE 100 BARTENDERS OF TOMORROW" in flesh and blood and in pictures with the exhibition dedicated to them.
Faces turned towards the future.
IN BARTENDERS WE TRUST
TENDANCES ET INNOVATIONS
Showcasing creativity and new trends
50 unique square meters to tour the national and international market.
Here, we decipher the trends that drive the industry in 100 products selected for their innovative and gustatory qualities.
A titanic sourcing and a Cocktails Spirits exclusive.
A space not to be missed.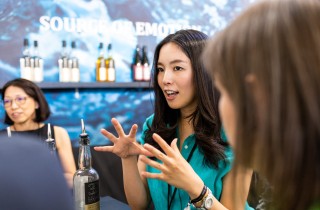 BUSINESS CONNECTION
Connecting People to create Business
You're in the right place: the center aisle of Cocktails Spirits.
Here you can find a line-up of the most inspiring producers and brands on the market.
An alley dedicated to business in a festive atmosphere.
A unique state of mind that we hold dear.
REDISCOVERING THE DNA OF BRANDS
Behind the brands, little hearts beating? Well, yes, that's often the case. Without the products and without the brands, there is no industry. In the Brand Corners aisle, which is dedicated to them, they advocate quality, commitment and diversity. Exchanges with the bar's community always push them a little higher. Hearts are high, bottles are high, expectations are high.
<3S> SUPER SHOCHU SPIRITS

MONKEY 47

SCHWEPPES SELECTION

COGNAC

THE GARDENER FRENCH RIVIERA GIN

BELLE DE BRILLET
VINTAGE SPIRIT GARAGE

LES BIENHEUREUX – POURVOYEURS DE BONHEUR

CAMPARI

DEL PROFESSORE

BAR ROUGE X CAMPARI ACADEMY

GRAND MARNIER

COGNAC PLANAT & CO

MONIN

REMY MARTIN

AGENCE EN PLACE / BARISTE

THE SEXTON IRISH WHISKEY

MARIE BRIZARD

TAKAMAKA

LA MAISON DU WHISKY

NIKKA

FEVER – TREE

TEQUILA 1800

THE KRAKEN BLACK SPICED

MANDARINE NAPOLÉON

TROIS RIVIÈRES

H.THEORIA
LIQUEUR ALGEBRA
ITALICUS ROSOLIO DI BERGAMOTTO
BORDEAUX DISTILLING CO.
BOW'S
CALVADOS DROUIN
DOMAINE DES HAUTES GLACES
MAIDENII
LUTÈCE
BRUNSWICK ACES
CROSSIP
EVERLEAF
GIFFARD
LE FRENCH
NONA
The Innovation Bar 2023
In a preview, we reveal our innovation of the year, because we need one. And it was unanimously approved!
Who is it? LINEVER from the young English company Three Spirit Drinks
AGAVE

Mezcal

EL DESTILADO – JABALI

OJO DE TIGRE JOVEN

CONVITE ENSAMBLE SILVESTRE

Tequila 100% Agave

TEQUILA BLANCO CAZCABEL

TEQUILA MIJENTA BLANCO

TEQUILA MIJENTA REPOSADO

APÈRITIF

Amer

AMARO BY YELLOW VERMOUTH

LOUPÈ AMER – DISTILLERIE DE LA SEINE

SOUBOZIANE

Aperitivo

LUTÈCE

SAVOIA AMERICANO ROSSO

Vermouth

VVINMOUTH

Absinthe

HYBRID ABSINTHE LaBouche

CALVADOS

CALVADOS CHRISTIAN DROUIN Millésime 2003

EXPERIMENTAL DE CHRISTIAN DROUIN Rhum JM Angels #7

CALVADOS LOUIS DE LAURISTON Les Parcellaires, 1995

AVALLEN CALVADOS

EAU DE VIE

Armagnac

ORGANIC ARMAGNAC DARTIGALONGUE

Cognac

A. DE FUSSIGNY COGNAC 2050 ORGANIC

Eau de vie de fruit

EL DESTILADO – Nanche

Eau de vie de vin

FERRAND RENEGADE Barrel Collection N°3

GIN

ACMÉ

ANNE-SOPHIE PIC GIN V2, BY AUDEMUS

CITADELLE VIVE LE CORNICHON !

ENGINE

HENDRICK'S NEPTUNIA GIN

GIN n°1 ADN

GIN PARCELLE

MELIFERA EDIZIONE CORSA

THE GARDENER

Old Tom Gin

GIN OLD TOM – ESPRIT DE RUCHE

LIQUEUR

Liqueur de Cognac

ABK6 ORANGE LIQUEUR

BELLE DE BRILLET

DELJOY LIQUEUR COGNAC & CITRUS

GRAND MARNIER GRANDE CUVÉE RÉVÉLATION

FERRAND COGNAC DRY CURAÇAO YUZU late harvest

Liqueur de fruits

AMARETTO ADRIATICO CARONI CASK

ÉCORCE DU CLOS LIQUEUR D'ORANGE

LIQUEUR DE BANANE VEDRENNE

LIQUEUR DE CACAO DISTILLERIE DE PARIS

Liqueur de plantes

NUSBAUMER WALDKRUTTER LIQUEUR DE PLANTES ANTIPODES

Umeshu

HAKUTSURU UMESHU GENSHU

MATSUI UMESHU, KURAYOSHI DISTILLERY

RTD

En bouteille

AIRMAIL COCKTAIL KOMET 

AIRMAIL COCKTAIL MAÏ TAÏ

SOUTH BEACH COCKORICO

TRAVELLERS COCKTAILS VERBIER MONT-GELÉ

PORNSTAR MARTINI – BASIL & DARJEELING

COSMOPOLITAN – HIBISCUS & RED PEPPER

NEGRONI – ROSEMARY & TIMUT PEPPER

ALLPOSSIBLEDAIQUIRIS – 001 #THEWILDDAIQUIRI

En canette

FÉFÉ COCKTAIL BASIL SMASH

FÉFÉ COCKTAIL ESPRESSO MARTINI

SHŌSHŪ

SHIRAISHI TENGUZAKURA (parcelle Beniharuka) 

SHIRAISHI TENGUZAKURA (parcelle 11)

OHISHI KUMA IMO SHERRY

OHISHI RESENA

YANAGITA HAMOKAMAMACHI

3S NASU KUMA NO IZULMI

SOFT

Ingrédient

ALTERNATIV VERJU LEHMANN

PURE by MONIN MANGUE PASSION

Soda

DRIMS SODA PAMPLEMOUSSE

DRIMS GINGER BEER

FEVER-TREE SPARKLING ITALIAN BLOOD ORANGE

FEVER-TREE SPARKLING MEXICAN LIME & YUZU

LONDON ESSENCE PAMPLEMOUSSE TONIC

MASTIQUA CONCOMBRE

SCHWEPPES SELECTION TONIC FLEUR D'ORANGER & LAVANDE

SCHWEPPES SELECTION POMELO & BAIE DU NÉPAL

SPECIALITIES

COCKTAILS DISTILLÉS NEGRONI

FRESH MONKEY

MAH SPIRIT OF THE FOREST

SONG CHA EARL GREY

SONG CHA LAPSANG SOUCHONG

SYMPHONY 6 EMPIRICAL

WOSKA DOMAINE DES HAUTES GLACES

Baijiu

BAIHUA BAISHOU JINBAI

Saké

AWAYUKI SPARKLING SAKÉ

SPIRIT FREE

Distilled botanicals

ATOPIA RHUBARB & GINGER

BABYLON GARDEN, DISTILLATS BOTANIQUES

DJIN NATURE IMMUNITÉ

Fonctional drinks

THREE SPIRIT LIVENER

THREE SPIRIT SOCIAL ELIXIR

THREE SPIRIT NIGHTCAP

Apéritif Alternative

ALAVIE ROYAL CASSIS

SUZE TONIC O%

Spirit Alternative

GIMBER N°2 BRUT

LYRE'S AGAVE BLANCO

LYRE'S AGAVE RESERVA

NOLOW GINGER N7 DE PLURIELLES

SUGAR CANE

Rhum

HOCBENDOCK RHUM BLANC
RATU 5 YEARS DARK RUM

RELICARIO VERMOUTH FINISH 40°

TROIS RIVIÈRES TRIPLE MILLÉSIME 2005-2010-2015

RHUM PRIMITIF – EMMANUEL CAMUT – BATCH#1

Spiced Rum

CANEROCK JAMAICAN SPICED RUM

Rhum Aromatisé

BOTAFOGO PINEAPPLE

BOTAFOGO GINGER

WHISKY

Single Rye Whisky Français

DOMAINE DES HAUTES GLACES MINIMUS SINGLE RYE ORGANIC WHISKY,
CLIMAT LES GABERT MOISSON 2012

Triple Grain Whisky Français

BELLEVOYE ORANGE – FINITION RHUM

Single Malt Whisky Français

BGW – WHISKY FRANÇAIS SINGLES MALT PAR BACHE – GABRIELSEN

WHISKY SINGLE MALT – EMMANUEL CAMUT – BATCH#3

Blended Malt Whisky Français

COPPER DOG

Single Malt Whisky Néo-Zélandais

SCAPEGRACE REVENANT SINGLE MALT WHISKY

Single Malt Whisky Australien

STARWARD GINGER BEER CASK #7

WHISKEY

GLYPH 85H

JACK DANIEL'S BONDED

JACK DANIEL'S TRIPLE MASH

MAIZ NATION BLANCO

KEEPER'S HEART IRISH + AMERICAN WHISKEY
THE COMEBACK OF LIQUEURS
H.THÉORIA
LIQUEUR ALGEBRA
ITALICUS ROSOLIO DI BERGAMOTTO

ULTRA-LOCAL 

BORDEAUX DISTILLING CO.
BOW'S
CALVADOS DROUIN
DOMAINE DES HAUTES GLACES
MAIDENII
LUTÈCE
LE BAR ROUGE
Le Bar Rouge meets Campari Academy with Monica Berg at the helm: this is couture bébé. The aim is to provide practical, hands-on, experience-based mini-training sessions, with a fair amount of commitment thrown in. The right mix.
14h

Sam Orrock, Wax On, Berlin

15h

Jack Muirhead, MAD Academy, Copenhagen

Learn to manage and lead better

16h

Lorraine Copes, Be Inclusive Hospitality, London

Aligned, aware, inclusive: staying the course

17h

Erik Lorincz, Kwant, London

Customer experience matters!
14h

Alex Frezza, L'Antiquario, Naples

How the hell did I get here? 10 things I learned from my 1st bar

15h

Maria Canabal, Parabere Forum, Nice

Driving gender equality in hospitality

16h

Constança Cordeiro, Uni, Lisbon

17h

Daniel Waddy, Satan's Whiskers, London

Back to basics: the best basics and forgotten techniques for sending drinks
FUNCTIONAL DRINKS GO AHEAD
Alcohol-free is out, alcohol-free is in. We're opening an ephemeral 100% functional bar with the Virgin Mary Collective Dublin team; drinks full of promise and a new era of partying. Not to be missed.
BRUNSWICK ACES
CROSSIP
EVERLEAF
GIFFARD
LA FRENCH
LYRES
MAHALA
NONA
R2G
SENTIA
WILD EVE
ADRESSE
Le Palais de Tokyo
13 Avenue du Président Wilson
75116 Paris
HORAIRES
Dimanche 4 et Lundi 5 Juin 2023
De 12h à 20h
Accès
Iéna et Alma Marceau

32, 42, 63, 72, 80, 82, 92

Station Pont de l'Alma
---
Réservé uniquement aux professionnels de plus de 18 ans.
Pour votre sécurité, nous vous conseillons d'utiliser les transports en commun.
Pour plus d'information contacter eric@liquidliquid.com